Precious Metal Assays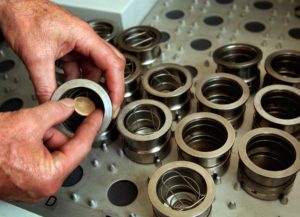 Looking for accurate analysis of your gold or silver? Authenticating precious metals takes the advice and know-how of an industry expert.
Whether you need to assay gold for jewellery making or determine the quantity and value of pure gold to sell, PMT can help you.
We provide precious metal assays for manufacturing jewellers, including gold, silver, platinum and palladium. Assaying involves heating and removing all impurities from the metal and assessing the remains. Assaying is also the most accurate method for authenticating your gold, and produces gold samples that are 99.9% pure.
PMT prefer to assay by lead-fire or X-ray fluorescence:
Lead Fire Assay
A standard method across the refining industry, lead fire assay is reliable for determining the amount of gold or silver in rock or concentrate samples. A sample of your metal undergoes smelting, once mixed with lead oxide.
X-ray Fluorescence Assay
Assay by this method is very efficient, allowing us detect the exact percentage of gold, silver, platnium or paladium in your sample. Results are 99.9% accurate, and includes a breakdown of any other elements in the sample. The advantage in this method, is that there is no destruction to your sample.
To order your precious metal assay service contact PMT today or fill out our Manufacturing Jewellers Order Form.